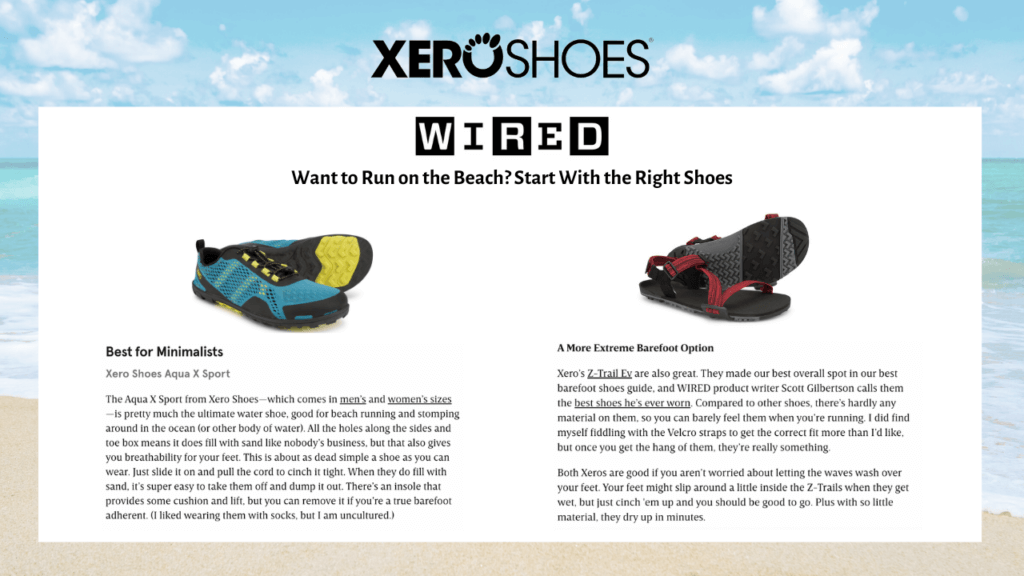 Two times in one month, two Xero Shoes are featured in WIRED!
 They ask, Want to Run on the Beach? Start With the Right Shoes.
Experts recommend you're better off NOT running barefoot in the sand, and that's a good thing because our barefoot-inspired shoes give you the protection you need while still allowing your feet to bend, move and flex naturally.
Xero Shoes' Aqua X Sport and Z-Trail are listed as the Best for Minimalists
WIRED calls the Aqua X Sport the ultimate water shoe, thanks to its superior breathability… All the holes along the sides and toe box means it does fill with sand like nobody's business, but that also gives you breathability for your feet.
  The Z-Trail EV made our best overall spot in our best barefoot shoes guide, and WIRED product writer Scott Gilbertson calls them the best shoes he's ever worn. Compared to other shoes, there's hardly any material on them, so you can barely feel them when you're running.